Fiber Optic Position Markers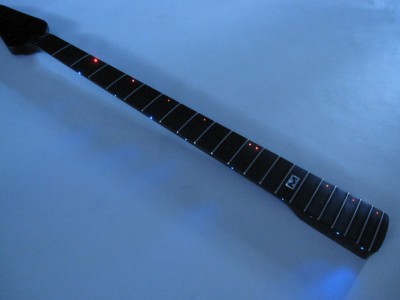 Moses Carbon Graphite USA offers 2mm fiber optic face and side dot position markers in red, purple, blue and white.  They are powered, as well as switched on and off, by one or two modules located in the back of the neck's headstock.  The modules may replaced with ease.  You can easily mix and match the face and side dot colors, or change the colors of either or both quickly.
Watch our You Tube Fiber Optic video
Moses Carbon Graphite USA advises that it is not wise to install LED's (live electrical) inside a neck.  This is because LED's can burn out and/or internal neck 'wiring' can go bad.  It is very costly to replace.  Alternately, inert optical cable carries light only / no live electricity.   Additionally, LED's require connecting their wiring 'through the body' to an active pickup power source.  Such wiring is also costly.  Otherwise, a pesky wire must come out of the side of the neck and trail-off to an external box dangling from the instrument's strap.  And as a sample comparison, Sims LED charges $716 USD for 20 side and face dots, or $557 USD for either 10 side or face dots (02-20-12 pricing).  So, relative to both cost and durability, Moses Carbon Graphite USA suggests that fiber optics are the superior choice.
Fiber optic position marker pricing:
Face 'and' side optics with power modules: $400 USD
Choice of face (or) side optics with o[power module: $300 USD
Optional Paduak Hardwood inlay strips:                                                                                                                                                                     Add $75 USD for two strips (face and side dot option)                                                                                                                                             Add $45 USD for one strip (side dots only option)