CS-27: 24 fret, 3+3 Custom Application

Our Price: $415.00
List Price: $488.25
Currency Calculator
Standard Specifications
Headstock:
3+3 custom Tilt back with 0.406" / 10.3mm tuner holes
Shape:
Shallow Oval
Width:
1.70" / 43.25mm
Depth at 1st fret:
0.78" / 19.85mm
Depth at 12th fret:
0.83" / 21mm
Heel Width:
2.20" / 56mm; correct for a snug and tight fit on standard 2.1875" (55.5mm) Fender pockets
Heel Shape:
Classic Fender
Standard Fingerboard Radius:
16" / 405mm
Number of Frets:
24 frets at 25 1/2"/ 650mm scale
Fret Wire:
Medium Jumbo 6150: 0.042" / 1.02" by 1.07mm / 2.59mm
Inlay:
White face and side dots
Nut Blank:
Carbon Graphite (or) Corian
Options, with no added cost
Left handed:
Yes, as a flip-over
Options, with added cost
Headstock:
Tuner holes: 0.344" / 8.73mm; 0.375" / 9.5mm; 0.39" / 9.9mm: Add $25 List USD
Fret Wire:
Fender 6230: 0.043" / 0.080" by 1.09mm / 2.03mm; Add $50.00 List USD
Other Fingerboard Radii:
7.25" / 184mm (or) 9.5"/241.5mm (or) 12"/304mm (or) 20"/510mm: Add $60.00 List USD
Shell Dot Inlay:
Mother of Pearl (or) Paua Abalone: Add $50.00 List USD
Lines:
Yes, optional on fretless variant
Fingerboard:
Shift (or) Holographite: Add $90.00 List USD (See Finishes Section)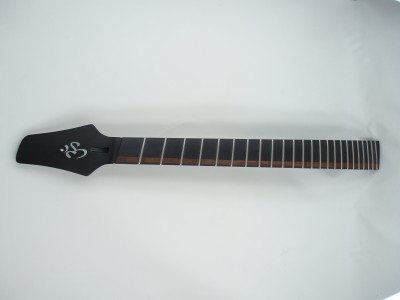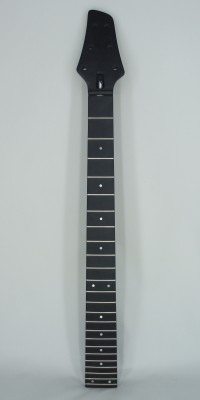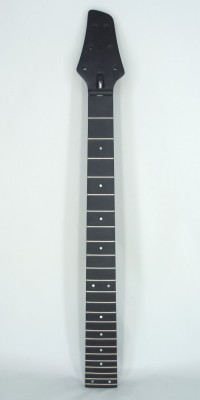 Moses offers this 24 fret, 3+3 tilt back Fender-style scale, shaft and heel neck. It is suitable for many custom applications.
Music Man is a registered trademark of Ernie Ball/Music Man. Steinberger is a registered trademark of Gibson Musical Instruments, Inc. G&L is a registered trademark of BBE Sound, Inc. Strat, Precision Bass, Jazz Bass, J Bass, P Bass, Fender and the distinctive headstock designs of the Stratocaster and Telecaster guitars are the registered trademarks of Fender Musical Instruments Corporation.